This is the ultimate guide for desiging brochure in 2020.
And let me be clear about something:
This is NOT your average "Brochure Design Guide in 2020".
Yes, We'll cover the most Brochure Design trends this year.
But you're also going to learn about sources to help you accomplish this master piece.
So if you're looking to create or improove your brochure design next year, you'll love this new guide.
Defining the Target Audience
A marketing brochure is one of many things. It is a call to action, a promotion, and also an infomercial.
It's a means in which to inform your audience and designate your product offering as appropriate.
It might also be a how-to guide, or perhaps a measure of what someone can expect when attending an event.
No matter the purpose of your marketing efforts, odds are that you're interested in turning heads with your brochure.
However, more than anything else, you hope the brochure will be read. As this may be more than two or three pages, it's important to get things right. But you cannot even dream of approximating the best solution without a deep understanding of your audience to begin with. There are several classifications within which you can define your audience, provided you also respectfully view them as individuals and do not push too far with the stereotyping.
But how might some of these classifications be utilized, and what might this mean for your brochure design? Please consider: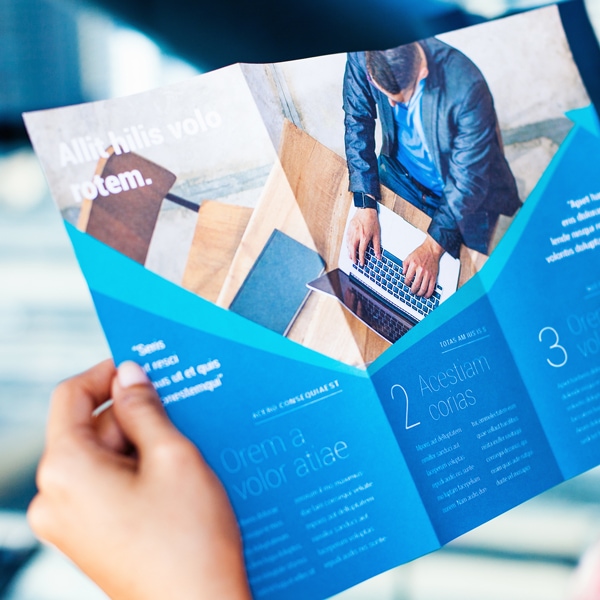 The Reading Format
It's important to know who you're aiming your brochure towards. For example, a marketing brochure eloquently articulating a new product line unveiled during a dentist's conference may be full of technical jargon and long, run-on sentences. It may use intelligent vocabulary and larger text boxes to orient the space on the page. Instead of stock images showcasing a happy dentist using one of your items, you may instead utilize a blown-up graphic of its individual components. It's the details that matter.
Now, if you're launching a new fruity drink and placing the brochure within a town cafe, odds are you're not looking to inform deeply, but to sell an experience. You wish to use imperative language and word associations that can be used with your product. Refreshing, hydrating, fruity, packed with flavor, all of these terms can inspire a purchase. Remember that your reader may only be absent-mindedly looking at this brochure in the first place as they order their morning toast and coffee, and so simple sentences with rudimentary phrasing can be the most punchy and effective here. Bright colors, word art, all of this can inspire an engaged look at the reading format. Better yet, simple infographics explaining your product within a few clever graphical adjustments (such as showing the fruit makeup within the bottle of said beverage) can help someone digest that information in even less time.
Scope Of Attention
However, a brochure in a business expo for corporate figures with a listing of your talks, and how this reflects your business vision might be a useful tool. Remember that it's important to consider the situation in which you are delivering this brochure, as no marketing material is disconnected from its outside environment.
Define your target audience, and you'll know how to speak to them. Remember this isn't as simple as 'intelligent vs. uninformed.' It might be that people have varying amounts of time and thus spans of attention which they can assign to your brochure. For example, a brochure intended to serve as supplementary material at a large business expo may be stuffed in the bag of an attendee being showered with free merchandise from every distinct direction.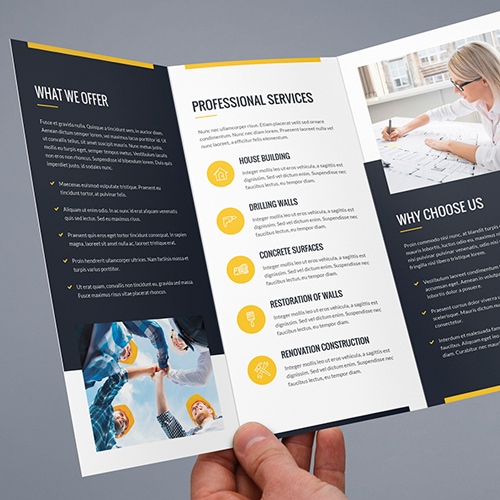 Lifestyle Factors To Target
It's important to note that each individual node of sale will have a story behind it. We do not sell to robots after all, but living, breathing, thinking and discerning human beings. This means that identifying your target audience and constructing an accurate persona around them can help you further direct your creative efforts.
Consider that socioeconomic status, regular income, housing experience, location, hobbies and interests, fitness status, relationship status, job security, buying cycles and the common customer-business relationship defined by your industry all has merit. It's important to consider these components. For example, someone who is single may spend more on additions related to gifts, such as better gift wrapping services or perhaps on a better line of eveningwear. 
It's important that you keep various personas to mind when crafting your marketing material, because one size does not always fit all. However, when you are able to construct a sales ideal through these measures, you can target certain lifestyle factors. When might a student wish to consume your energy drink throughout the day, for example, and might this change depending on what course they do? Someone taking a sports course may be more health-conscious, for example, and so tailoring your marketing brochure as a result can help you ascertain specific, well-oriented sales goals. From there you can refine your output.
Writing content for a brochure
Disregarding the size of your company, we need these materials to present in network events, meetings, and even trade shows.
And you cannot deny that we always wait until the last minute to create these brochures. There are 2 key factors to write good content in a brochure: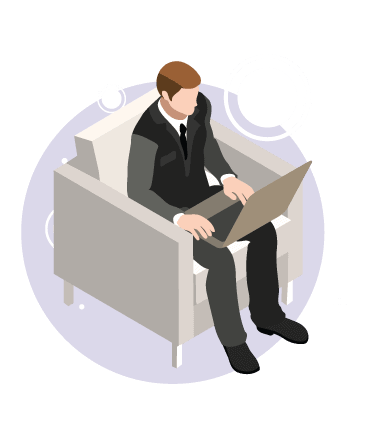 Credibility
People expect a "real" company to have printed sales literature. Anyone can spend $60 on business cards and letterhead and call themselves a company. But if you want people to know you mean business, you need a professional brochure.
Time Saver
People want printed material to take home and read at their leisure. Brochures also support other advertising, direct mail, online promotions, network events, tradeshows. In short, a good brochure sells.
1. Know what your reader wants
Write your brochure or leaflet from the reader's point of view. What are your readers' concerns? What do they need to know before they make a purchase? Try writing down all the questions you hear from your customers and try and answer them in your collateral.
2. Motivate your reader to look inside
The first page your reader will see is the front cover. Get it wrong and you will likely lose the sale. Start with the benefits of your product, or use thought-provoking statements that motivate the reader to pick up the brochure and open it. Tell the reader there's something inside just for them — an exclusive invitation, a free report, a special discount, or advance notice of sales. Don't put just your company logo or product name on the front. That will not work.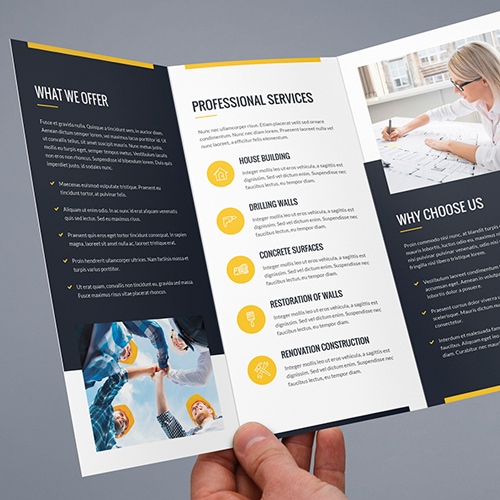 3. List the contents
Write your brochure or leaflet from the reader's point of view. What are your readers' concerns? What do they need to know before they make a purchase? Try writing down all the questions you hear from your customers and try and answer them in your collateral.
4.List your product's benefits
Purchasers care about benefits, not features. To develop a list of benefits, draw up a list of product features and add the words "which means that…" after each point. For example, "The cake is made from an original recipe, which means that…it tastes better." Or, "The car has a 300 horse-power engine, which means that…it goes faster." Benefits are what sells products.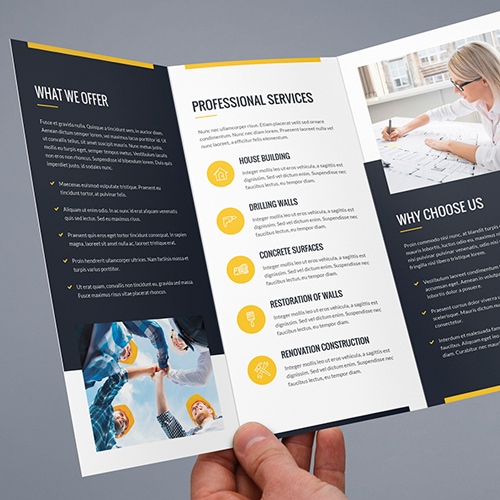 5. Make the brochure a keeper
Putting helpful information in your brochure will encourage the reader to keep it, refer to it often, or pass it on to other people. If you are selling paint, you can provide hints on color schemes, painting how-to information, tips from the pros, or other information. If you are selling skincare products, you can give your readers tips on how to combat pimples, dry skin, fine lines, and wrinkles
6. Alter the shape
Who says a brochure has to be 8 ½ by 11? If you are selling sandwiches, design a brochure in the shape of a sandwich. Season tickets to soccer matches? Design it in the shape of a soccer ball. Use your imagination to come up with an original, eye-catching piece. Try tall and slim, square, oblong, whatever you like. The only limitation is your imagination, and, of course, your budget.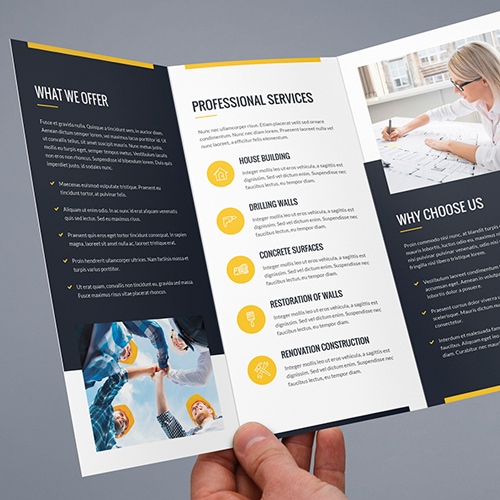 7. Make it personal
An experienced speaker talking to a large audience will pick out someone in the crowd, and talk directly to him or her. This connection allows the speaker to make the talk more personal. Similarly, write your brochure with an imaginary person in mind. Why? Because writing in a direct "I'm-talking-only-to-you" style will increase response.
8. Add atmosphere
You don't want your brochure to sound aloof. Let your reader share your feelings. A brochure about a wood-burning stove does not need to go into the ins and outs of how the stove works. Tell your reader about rain swept winter evenings and snowbound afternoons. Let your words show them how warm and snug and they'll be when they purchase one of your stoves.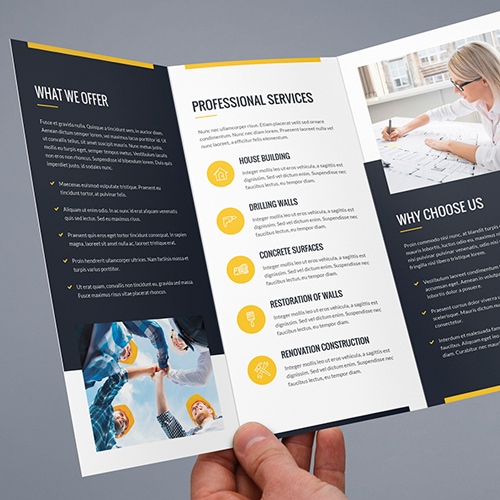 9. Start selling right away
Not everyone needs to know about every aspect of your product or service. Don't waste their time telling them about things that don't convey a benefit.
10. Address your reader's needs
Don't get carried away with your interests. Talk about your reader, not yourself.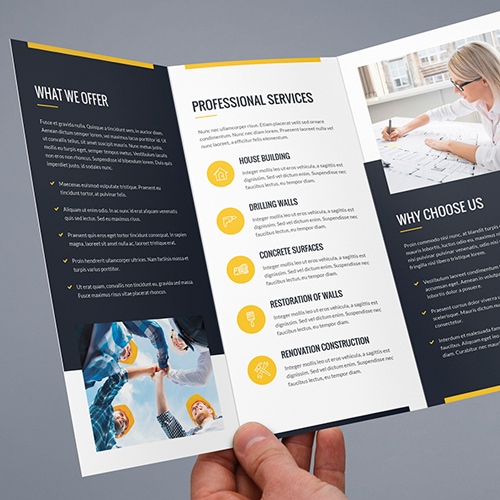 11. Give directions
Organize your brochure so readers can flip through the pages and easily find what they want. Provide clear signposts or headlines throughout the brochure and make sure each one says "Hey, pay attention to me!"
12. Ask for action
Regardless of how you organize your brochure, there's only one way to end it. Ask for action. If you want your reader to respond, include an 800 number, reply card, or some form of response mechanism. In fact, to increase your brochure's selling power, include your offer and a response mechanism on every page.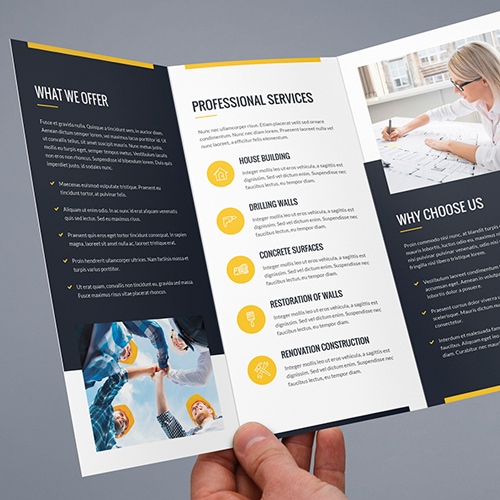 Choosing Images For A Brochure
Choosing images visually-oriented for your brochure seems the easiest part, but in reality, it is not.
In the creative world, a picture really is worth a thousand words
If your brochure doesn't inspire, engage, and incredibly high quality then you could see people pass you by for the competition.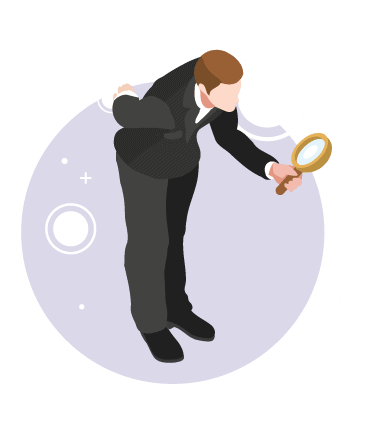 We are pretty sure you have seen in a brochure those blurry images logos and that's exactly what we are trying to share in this guide. This chapter will give you a better understanding of how to choose the best possible images for your brochure.
Image Research
Look for images used in your industry or niche. This group of images can be found on your competitor websites, email campaigns, or social media marketing campaigns. This is so far the best way to keep your design trendy and compete with the big boys out there. We always suggest spending one day analyzing what are the most common elements on the brochure and figure out what the images are trying to communicate. It's totally fine if you create a folder and start saving all this image there to review later.
Other option to look at past brochures of successful businesses in your industry. What commonalities do you notice? Chances are, these elements will work for the brochure you want to make right now.
Decide What Kind of Images Work Best
There is an unlimited variety of images that can be used to design your brochure, so the first thing you will need to do is narrow the selection down some to make the process faster and easier. There are many different sources to find images to fit your message products or services.
Examine the Relevance That the Image Has
One of the biggest mistakes with brochure images is trying to rush the process without taking a moment to think. Avoid completely the "just pick something" approach. Each image selected needs to have a high degree of relevancy to your products, services, company, or message. If the pictures are not relevant this can lead to reader confusion or cause your reader to dismiss your purpose.
Eliminate Any Choices That Are Low Quality
Once you have a good understanding of the types of images for your brochure design the next step is to go through the different possibilities and eliminate and photos that are low quality or that have issues with visibility or resolution. The photos will represent your brand, company, products or services, please make sure that they represent high quality and professionalism. 
Enhance and Refine Your Chosen Images When Possible
Once you find an image that fits your industry, one that is relevant and that appeals to you, it may be possible to enhance and refine the graphics so that it is even better afterward. This is not always an option, these steps can turn a good image into something that is great. A professional graphic designer may be able to help with this process.
Don't Forget About Your Company Logo
Sounds obvious to place your logo in a highly visible place on the brochure. Our suggestion will be on the front page.
Remember your logo is part of your brand and you want to build recognition so that eventually this is all that a consumer needs to identify who you are and what you are offering.
Hiring A Marketing Design Agency For Your Brochure Design Is Okay!
Some of the big obstacles to designing are exciting and compelling are a lack of knowledge about the process or a lack of creativity. Company owners are executives who are really good at what they do, but they don't have the expertise in the graphic area, colors, content marketing, setup files, and dealing with printers. It is totally worth it hiring a professional marketing agency to handle all the steps we mention here, after all, your investment it's 100% deductible from your yearly taxes. 
Top 6 Photo Libraries For A Brochure
Our Top 6 Stock Photo Libraries For A Brochure Design
Picking images or vector files is not an easy duty, you need to spend some time researching the right images for your brochure.
After all, research is part of creating a professional marketing brochure. Below you will find our favorites stock photo libraries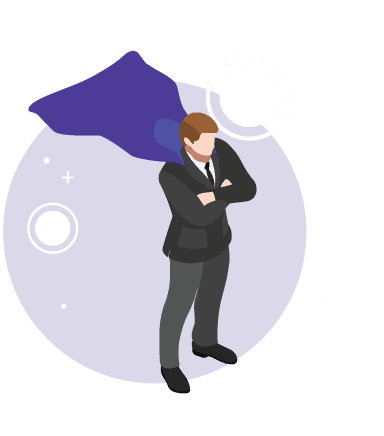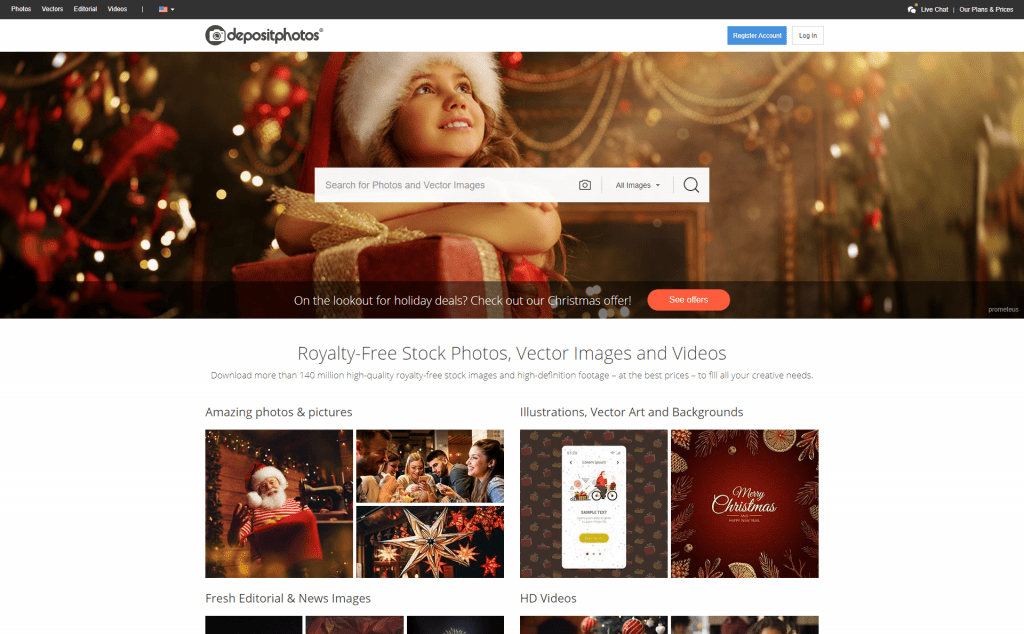 Depositphotos is a royalty-free microstock photography agency based in Fort Lauderdale, Florida. It was founded by Dmitry Sergeev in November 2009 in Kyiv, Ukraine. The company also has offices around the world providing customers with support in 20 languages.
iStock offers millions of affordable, unique, royalty-free images and stock photos. Images can be downloaded using iStock credits, which are sold in preset packages. The site features a simple search facility as well as a 'browse by category' function, making it easy to find what you're looking for amongst the thousands of images it holds.
Founded in 1995, Getty Images was the first company to license imagery online. Now, its library features millions of stock images. This online library is designed to make it easy to find the images you're looking for, with categories and an easy-to-use search function. Images are individually priced depending on the license required.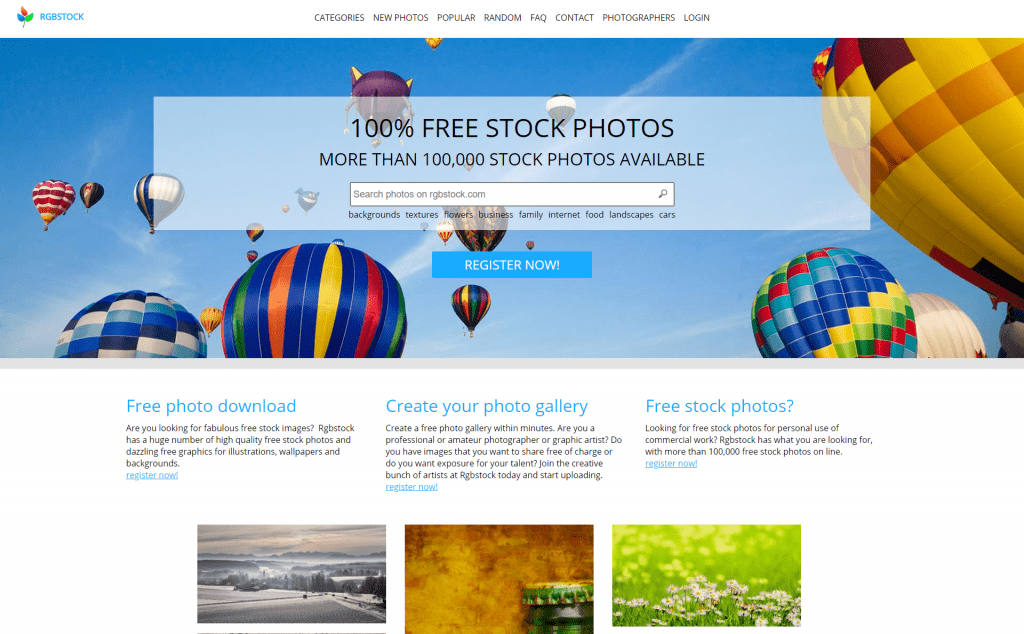 Need some images for your latest project but on a budget? Then RGB Stock may be able to help. This site offers a huge number of high-quality free stock photos and free graphics for illustrations, wallpapers, and backgrounds, all of which are free for personal and commercial use.
If you're after a specific photo fast, head over to photo library Fotosearch. This site holds over 14,700,000 royalty-free photos in its archives, so you're sure to find exactly what you're looking for here.
Adobe is devoted to offering affordable creative imagery. Its crowdsourced library includes millions of images. All images offered on Adobe can be used for any design project or document, with no time limits or restrictions on the number of printed copies.
Printing Method For A Brochure
Putting together a professional brochure design involves much dedication and several steps within the process.
Even though brochure printing is the last in line for the entire process, you need to know beforehand what decisions will be involved as they affect the design.
Before you begin the layout, use this chapter as a reference for your brochure printing decisions.
Printing Size First
Printers will print the original artwork size, so make sure to decide the brochure size beforehand and communicate with your graphic designer. A wrong size can cause to stretch images, change the format or important information to be cut off.
The printer's job is to print the file sent, their job is not resizing, they don't have the skills of a graphic designer there are a few printers who offer graphic design services at an extra cost, and in most of the cases are not cheap.
Brochure Pre-Made Templates
Using a brochure template will ensure that your design follows the correct size and will also help the graphic designer with the bleed specifications. Check with your local printing company and find out if they offer blank brochure templates as this will make your printing process smoother and preventing text and images from getting cut.
Templates made on Microsoft Word Documents, Microsoft PowerPoint, Google docs, or Google Sheets are only set up to home print. These types of documents are not officially set up for printer, and in most cases, the printers will charge you extra to convert the document to a proper printing artwork.
Outlined Artwork
Your images need to be high resolution and any extra element must be a vector to avoid blurry appearance. Chapter 4 mention our top 6 photo libraries for your brochure.
Artwork Color Setup
The colors you see on the screen are totally different from the one on paper.
Scanners, digital cameras, and computer monitors use red, green, and blue (RGB) light to display color.
Commercial printing presses print with cyan, magenta, yellow and black (CMYK) ink, called process printing, instead of RGB light, and therefore produce a different range of color.
There are RGB colors that you can see on your monitor (bright blue, green, and red) can't be replicated with standard CMYK inks. These unachievable RGB colors are said to be "out of the CMYK color gamut." When selecting colors for your print project, the graphic design agency must use CMYK color builds to avoid potential RGB conversion issues.
Purchasing a printed color chart for CMYK and PANTONE colors will help you know exactly the color tone you will get in your brochure. If this is not an option for you, calibrate your design program with your monitor using software available online.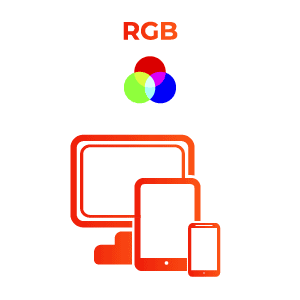 Digital, web, tablet, mobile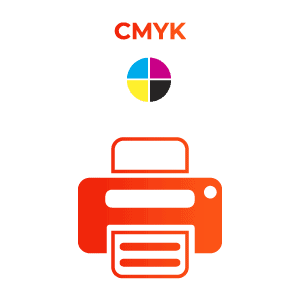 Fold
There are different types of brochure folds and this decision must be taken, it's an absolute necessity.
The type of fold you choose changes the design layout and also changes the way the graphic designer needs to set up the file.
Below are the most common folds
Paper
Brochures are usually printed on heavy text or cardstock. Using a text paper, such as 80# provides durability but is also easily folded. This paper stock usually comes with a gloss coating for protection and shine. If you decide your brochure needs more protection, you may want to go with a 100 lb paper and a heavier gloss coating, such as UV Gloss for sheen or a matte.
Paper weight is measured in grams per square metre (gsm). In general, the higher the gsm rating, the heavier and thicker the paper will be.
When it comes to finalizing the requirements of your next brochure, be sure to consider the weight of paper on the inside and also your cover requirements. If you want to provide a quality professional finish then opting for heavier paper is your best choice. If you are looking to get across the idea of discounts and value for money then you may decide to run with a lighter paper weight throughout the brochure.
80 – 100gsm
This is the general weight of standard office paper and would rarely be used in brochures.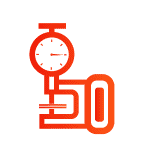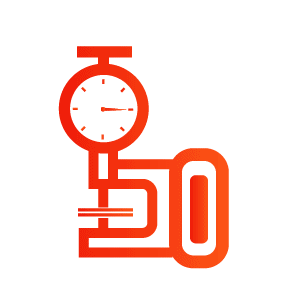 110 – 120gsm
This weight is usually used with stationary paper for things such as letterheads and compliment slips.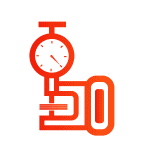 130 – 170gsm
Heavier, more durable paper usually used for posters, leaflets, flyers and pages inside your brochure.
170 – 200gsm
This is the midway point between paper and card. It can be used for brochure covers and is great when used for more luxurious posters or quality double sided flyers.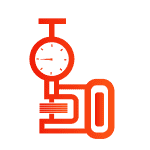 200 – 250gsm
This paperweight is the starting point of heavier card (board) and can add a quality finish to a brochure if used as a cover.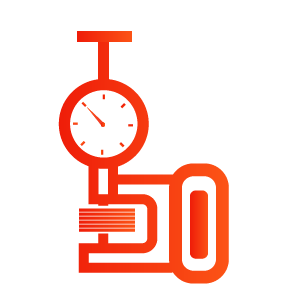 300 – 400gsm
Board can be used as a cover for brochures but it's important to remember the stitching and folding implications of using heavy board as a cover.
Customers like to use their senses when deciding on purchases and the sense of touch can often influence their decision. Make sure when your customer lifts your brochure that they aren't let down by the type and weight of paper that you decided to go with.
Utility options
If you know that your brochures will be placed in a 3-ring binder, you will want to have them hold-punched. For brochures that include a removable panel, such as a mail-order form or discount coupons, don't forget to ask about perforation options.
Digital Proof
To double-check we always recommend requesting digital proof must of them are free. A proof allows you to check for typos and correct alignment of text and images. It's a really good practice to review one more time. Once you give the printer the green light they will start production.
A normal process for print production are from 3 to 5 days depending on how busy they are. 
A physical proof, though, shows you exactly what your brochure will look like when complete, something that a computer screen just can't duplicate. Be aware that this proof will be expensive.
Quick Brochure Design Tips for 2020
This is the ultimate guide for desiging brochure in 2020.
And let me be clear about something:
This is NOT your average "Brochure Design Guide in 2020".
Yes, We'll cover the most Brochure Design trends this year.
But you're also going to learn about sources to help you accomplish this master piece.
So if you're looking to create or improove your brochure design next year, you'll love this new guide.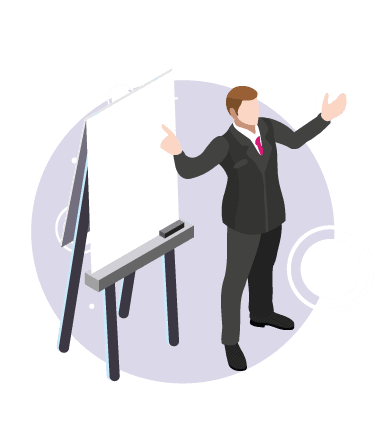 Well designed print collateral like brochures will certainly make you feel more confident, but good design does so much more than that. Quality design increases the effectiveness of your print pieces. Whether you're trying to sell a product, shift the perception of your brand or deliver a message, great design will help you accomplish your goal.
This is the ultimate guide for desiging brochure in 2020.
And let me be clear about something:
This is NOT your average "Brochure Design Guide in 2020".
Yes, We'll cover the most Brochure Design trends this year.
But you're also going to learn about sources to help you accomplish this master piece.
So if you're looking to create or improove your brochure design next year, you'll love this new guide.