In today's digital age, most of us turn to the internet looking for answers. When we need information, we pick up our smartphone, and five minutes later, we are on our way to the best dentist's office. Isn't that great?
This represents an amazing opportunity for dentist practices to offer their services. But first, they need to understand how to apply Dental SEO and search intent, or search engine optimization (SEO), and why it's so important.
Local SEO for Dentists is constantly improving, from keyword optimization to analyzing user behavior. We know it's hard to keep up with all the terms and tools of SEO. This is why we will explore the world of dental SEO and unravel the significance of search intent. We will explore why understanding search intent matters in the context of local dental SEO and how you can take advantage of it to improve your online presence.
The Importance of Search Intent
Search intent will help you align your content with what users are seeking. This is important in SEO because understanding the motives of potential patients allows you to provide relevant information while improving user experience.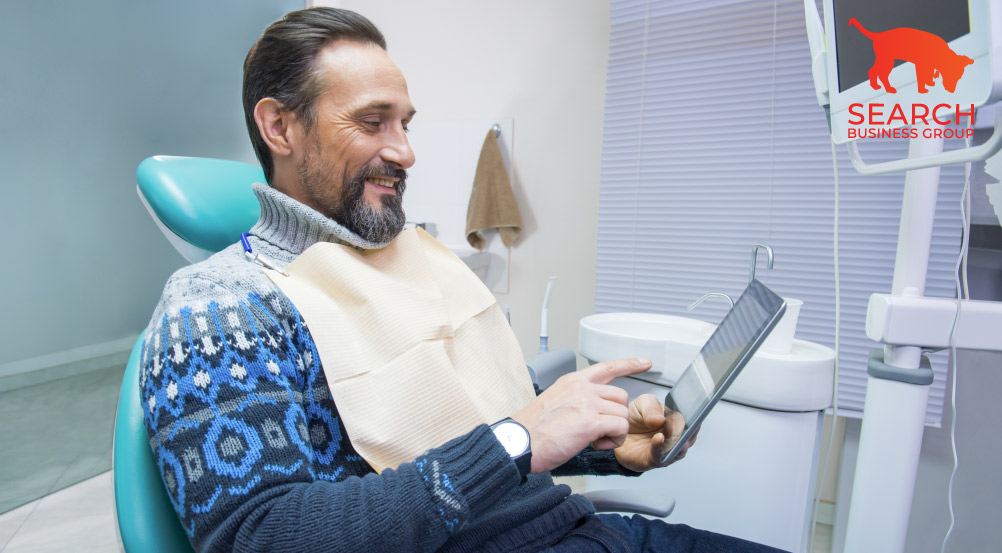 What Is Search Intent?
We can define search intent as the purpose or intention behind a person's online search. There are four main types of search intent:
Informational Intent:
If you are feeling curious and you search for something, you have informational intent. For instance, if you search for "How do orthodontic appliances work?" you are looking for information about orthodontics.
Navigational Intent:
Navigational intent refers to the situation where you want to find a specific website or page.
Transactional Intent:
Transactional intent happens when you are considering buying a product or asking for services, like searching for "Invisalign price" when you are considering undergoing orthodontic treatment.
Commercial Investigation Intent:
This intent takes place when you are researching a product or service; you usually research quickly and compare several options before making a decision.
Improve your ROI with Search Business Group
Why Does Search Intent Matter for Dental SEO?
Search intent is important for dental SEO because it can help you connect with potential patients effectively. This happens because when people search for dental information, their intentions can vary, from looking for general tips to seeking specific services.
When you understand this intent, you can personalize your content to meet the needs of the users. To achieve this, you need to create articles and videos that answer their questions and address their concerns. In return, search engines reward sites that are relevant with a higher ranking in search results, leading to increased organic traffic and more prospective patients.
Optimizing for Search Intent
If you want to optimize for search intent, we recommend that you conduct keyword research and create content that matches search intent. This way, you can ensure a user-friendly experience while boosting your website's opportunity of ranking higher in search engine results.
Conducting Keyword Research
Keyword research is an important step to ensure your content appears when users search online for dental services. This is what you can do:
Identify Main Keywords:
You can start by making a list of the most relevant keywords or phrases, known as long-tail keywords, for your dental practice. Try to think about the words people commonly use when looking for dental services. For example, "dentist," "orthodontic braces," or "teeth cleaning."
Use Keyword Research Tools:
To make this job easier, you can use specialized tools like Google Keyword Planners. These tools can guide you in choosing relevant keywords, reveal how often people search for each word (search volume), and how many websites are targeting the same words (competition).
Align with Search Intent:
As you are researching, remember to consider the users' search intent behind each keyword. You can ask yourself: why are people using these words? You can think of people's intentions based on the words they use. For instance, if someone searches for "orthodontic braces," they probably want information about that specific service. However, if someone searches for "emergency orthodontics," they likely need immediate dental assistance.
Keyword research represents the opportunity to understand your target audience and create content that answers their needs. This will improve your website's visibility and attract more patients to your dental practice.
Creating Content that Matches Search Intent
If you create your content based on the different search intents, you will improve the user experience while increasing engagement from your readers, which can attract more patients to your dental practice. Let's talk about how to match your content to the user's search intent:
Informational Search Intent:
To answer informational search intent, you can create articles that inform and educate your readers. For instance, you can write about dental care tips, give oral health advice, or explain common procedures. Remember to use clear language that is easy to understand. In addition, this content will help you establish your expertise in your field.
Navigational Search Intent:
The best you can do for your potential patients is to ensure that your site's navigation is clear and user-friendly, especially for those who are trying to find specific information. We recommend that you organize your content logically and use intuitive menus that users can easily locate and use.
Transactional Search Intent:
For those patients who are ready to take action, like contacting your practice or booking an appointment, you can create a landing page that contains all the information about your dental services. It is important that you include a call-to-action phrase or button (CTA) so they can easily book an appointment.
Commercial Investigation Search Intent:
If you want to help patients make a decision and opt for your services, we recommend you provide detailed information about all of your services. You can include testimonies from your dental patients, pricing details, and before-and-after photos.
Turning traffic to revenue
Orthodontist Group
Over 132% increase of first-time callers
User Experience and Search Intent
When we talk about user experience (UX), we refer to how people interact with a website. On the other hand, search intent involves the reasons why users make online searches, whether they are for information or transactions. Now, if you combine these two elements, you ensure that users find what they seek quickly and effectively.
Improving Website Usability
Providing an engaging and easy experience for online users will help you increase your visibility and drive more organic traffic to your website. Here are some recommendations on how to do it:
Mobile-friendly and Fast Loading
Nowadays, most people use their mobile devices to search for information. This is why your dental website should be responsive and load fast on mobile or desktop devices. If your site takes too long to load properly, users may get bored and try another page.
User-friendly Design
It is essential that your website's design is simple but aesthetically pleasing. To achieve this, you can create intuitive menus, add clear headings, and organize your content so potential patients can easily find everything they need. Remember to add important information, including contact details, services, and appointment scheduling.
Clear and Concise Language
We recommend using clear and concise language so patients can easily understand your services and benefits. Communication is the best way to build trust and help patients make informed decisions about their health, so don't waste it by using complicated words.
Usability improvements can help you become more accessible and attractive to potential customers. In addition, you can improve their online experience while increasing the possibility of them asking for your services.
Enhancing Engagement and Conversions
To enhance engagement and conversions, you can use strategies such as compelling CTAs, engaging visuals, and user-friendly forms. As a consequence, you can turn website visitors into patients for your dental practice. Let's explore this further:
Compelling CTAs
We recommend that you include clear calls-to-action (CTAs) across your website, encouraging users to schedule appointments or contact your practice. To motivate user action, you can use action-oriented language.
Engaging Visuals
Another great way to enhance engagement is by creating enticing and clear visual content that will attract users while providing important information about the services you offer.
User-Friendly Forms
If you implement user-friendly forms, you can simplify the process for patients who want to book appointments or inquire about information. Make sure that these forms are easy to find and complete, whether the patient is using a desktop or mobile device.
Looking for Healthcare SEO Pricing?
If you're interested in sustainable growth for your practice, check out our solutions for affordable and efficient Healthcare SEO pricing.
Measuring and Analyzing Search Intent
Measuring and analyzing search intent are powerful tools that can help you understand people's intentions when:
they are looking for dental services;
and to know how well your website meets their expectations and needs.
Let's talk about how to use these tools:
Tracking Keyword Rankings and Organic Traffic in Dental SEO
We recommend you begin with tracking keyword ranking and organic traffic. This will allow you to understand your website's performance and if it answers to the user's search intent.
Best Dental SEO Tools
SEO tools, such as Google Search Console, KWFinder, and Google Trends, can facilitate your job by showing your website ranks for keywords and how many people visit your site.
Keyword Performance in Best Dental SEO
These are interesting tools that help you understand how well your website matches keywords with different intentions. For instance, they will let you know if you are showing to potential patients when they are looking for information or when they are ready to schedule an appointment. You can use this information to help you improve your website's visibility.
Analyzing User Behavior and Engagement Metrics
Analyzing user behavior and engagement metrics will allow you to define your SEO strategies and content to optimize for search intent and answer the concerns of potential customers. We recommend that you use analytics tools and then search for patterns and trends in that information.
Analytics Tools
To track behavior metrics, you can use analytic tools like Google Analytics. Important factors to monitor behavior metrics include bounce rate, time on page, and click-through rate (CTR).
Patterns and Trends
Also, you can search for patterns and trends in those metrics. For example, if you notice that a specific page has a high bounce rate, you can investigate why. Maybe the content is not answering a particular search intent.
Mastering the Power of Search Intent
Mastering the power of search intent is essential to stay competitive in the world of digital marketing. If you want to learn how to create interesting content, optimize your website, and dissect user search queries, we invite you to join us on this journey through dental online marketing.
Understanding search intent in dental SEO will help you boost your online visibility while building trust and credibility within your community. So, what are you waiting for to elevate your dental SEO strategies and start attracting the right patients to your dental office?
At Search Business Group, we will be happy to guide you through the nuances of search intent and empower your practice to thrive in the ever-competitive dental landscape. Your success story begins with understanding why search intent matters for dental SEO.