If you're itching to know how to grow your dental practice, we're here to offer some tips on what the essential steps are, where you can start, why it's so important to focus on digital marketing, and how you can partner up with the best digital marketing agency in Orange County to make your dreams come true. The dental industry has a value greater than $130 billion, so dental marketing is a necessary cornerstone for growing a practice.
When you're trying to grow your dental practice in ways that bring in new qualified patients, search engine optimization (SEO) is a core tenet to keep in mind. In this article, we'll be focusing on the essentials of digital marketing and a few tips you can follow to get your journey started. The team of dental marketing specialists at Search Business Group wishes to share as much information as possible with all our readers, so buckle up and get ready to learn a lot.
Follow these dental SEO tips to take your marketing efforts and success to the next level.
How Does Dental Marketing Work?
Dental marketing starts by understanding what your potential patients need. As a service provider, you must already be familiar with this point, even if you don't yet realize it.
Do your patients come in for a consultation with similar questions? Are they looking for some treatments near specific holidays? Are adult concerns different than those of younger kids?
These are all questions that reveal important information on how to direct our efforts best and reach a wider audience that will feel captivated by your skill and commitment to high-quality standards of service. When you stop to consider what we do as a professional digital marketing agency, you will notice that all our work comes from questions such as these. We want to know what makes you stand out from the crowd and what makes your target audience tick.
Of course, we do this full-time, and even if it may not prove too much to handle for someone who knows the field as well as you, the dental healthcare specialist, it may still prove challenging enough that you might prefer getting help from a team such as ours.
If you wish to know to get more patients in a dental office you manage, you should start with our crash course on how dental marketing works. Here at Search Business Group, we have decades of combined experience working with dental healthcare providers who are amazing caregivers and wish to make their practices much more profitable.
What Does Search Business Group Do for Dental Marketing?
Our services and this includes any digital marketing agency, begin by understanding your brand. Everything that makes up your identity online and in person is part of the branding aspect of dental marketing. This way, we ensure people will recognize you and identify positive traits with the level of service only you can provide.
Then, we set out to plan the most efficient ways to reach your desired audience, focusing on local searches that have more chances of converting into loyal patients. There's a lot of research involved in this step, and communication between you, the specialist, and us, the marketing agency, is crucial.
After we have everything laid out, we begin our execution, understanding that you require a unique approach. We create digital assets and guide content creation that signals to clients how knowledgeable and trustworthy you are. This is no fiction, as we focus on tangible results that won't risk creating false expectations.
All of this has to be accompanied by a constant review and audit process where we identify how our competitors are doing and what else we need to focus on. Dental Marketing is not a one-time thing you can do. It continues to evolve as your practice grows.
Let's take a look at how we organize all of this with the discipline we've learned from SEO for Dentists:
What Is Dentist SEO?
SEO is an acronym for Search Engine Optimization, and it is a series of strategies that focus on making your website visible and more attractive to search engines such as Google, Bing, and more. When you consider that 90% of search traffic usually comes from Google, you'll understand why we focus so much on understanding the algorithm changes at Google and how to improve your website's rankings.
Think of the web as a giant library. What Google does is it crawls through several websites indexing all the information and key ideas, so when any user searches for keywords, such as "best dentist near me" or "how to grow a dental practice," Google will know exactly what information best answers those questions.
SEO has changed a lot in recent years, so it pays to stay updated with the latest trends. If you want to ensure your success in the digital landscape, we highly suggest you contact our team of SEO professionals.
Dental SEO: Important Tips to boost your Ranking and Traffic
First off, recognize why search engine optimization can help your practice. Marketing is critical no matter what you hope to accomplish.
Here are some foundational ways that SEO will be the best tool to use moving forward:
1. Search Engine Optimization (SEO) is the Current Marketing Currency For All Fields
If you can master SEO, you can master the primary way to bring new eyeballs to your dental practice. This is the marketing tool that bridges gaps in all industries and allows you to bring in qualified patients.
Prioritize good technical SEO that shows your expertise and comfort in the dental industry.
2. It Helps Connect You to People That Are Looking For What You Offer
Another major benefit of dental SEO is that you're connecting with people that are already looking for what you offer. It's a passive form of marketing that brings aggressive results.
You're essentially implementing keywords into your website and blog content so that web searchers can find you.
3. SEO is Great For Local Dental Practices
You will also appreciate that search engine optimization is excellent for local marketing endeavors.
Focusing on local SEO is great when you're trying to get an influx of new patients. Marketing professionals will help to research and optimize local keywords that will bring you fresh traffic and high rankings in Google.
4. The Possibilities Are Endless With The Services You Can Offer Via the Web
Today, it makes perfect sense to also think of your practice as a global one.
Though you may primarily serve patients in your local and surrounding area, the worldwide possibilities are endless. For example, you can publish dental eBooks and courses that can help people all over the world.
The fact that you're medically licensed gives you credibility that other content creators don't have.
When you work your SEO marketing strategies, you open the door to new followers and traffic, which can help you leverage what you do best.
5. You Can Improve Your Mobile Reach
In this day and age, you'll need to optimize your site to serve people that use mobile devices. Right now, 96% of people in the United States own and use cell phones.
If you're not designing your site in a way that caters to those devices, you're missing out on a large segment of your potential audience.
How to Bolster Your Dental Marketing With These SEO Strategies
Your dental practice will soar when you have the right marketing strategies to help you out this year and beyond.
Here are a few different ways you can incorporate SEO strategies that get huge results:
1. Create a Blog For Your Dental Practice
Writing a blog post is essential in helping drive traffic to your website and grow your dental practice. High-quality information is always useful for many potential patients in your area. The added influx of traffic that a good set of blog posts brings is not at all negligible, as it helps create a long-term following. A dental blog will also help keep your site constantly updated with timely information rather than a static and boring second-hand asset.
But, enough of what your dental blog can do to grow your practice. Let's talk instead about how you can begin writing good blog posts. Our first recommendation is that you reach out to professionals, such as the team at Search Business Group, for a detailed content marketing campaign that fits your dental specialization. However, there's still a lot you can do on your own.
Try sitting down and think of a short list of questions you hear frequently from your patients. It's essential you get in their mindset instead of focusing solely on what you think is important from a dental health point of view. The most successful and eye-catching blog posts on dental topics hit that sweet spot that considers what your target audience looks for and what you, as a dental health professional, can share.
Perform a quick keyword research and plan your first 5 to 10 blog posts to release them periodically. Blogging takes several things into consideration, and you can learn a lot more about the ideal SEO blog post length, good practices in SEO copywriting, and content marketing strategies from our articles.
This strategy will help increase your Domain Authority (DA) and Page Authority (PA).
Before you know it, your blog will become a staple of your website, helping attract more patients to your practice.
2. Cam Up and Start Making Video Content
Right now, you have to create video content that engages people. This is a core principle of search engine optimization that will grow your ranking and get you plenty of repeat followers.
This is particularly useful in fields like dentistry. Think about it—Dentistry is not a field that you use every day.
It fills a very specific need, and most people only visit the dentist one or two times per year.
When you put out consistent and valuable video content, you stay on people's minds year-round. This makes them more likely to remember their appointments and reach out to you in the interim if they have any kind of problems.
Always produce a sharp video that is at least 4K resolution. Match your video with quality sound so that your audio levels are where they need to be.
You can also optimize your video by incorporating keywords and creating videos with interesting topics and catchy headlines.
3. Make Use of Chatbots and Other Kinds of Artificial Intelligence (AI)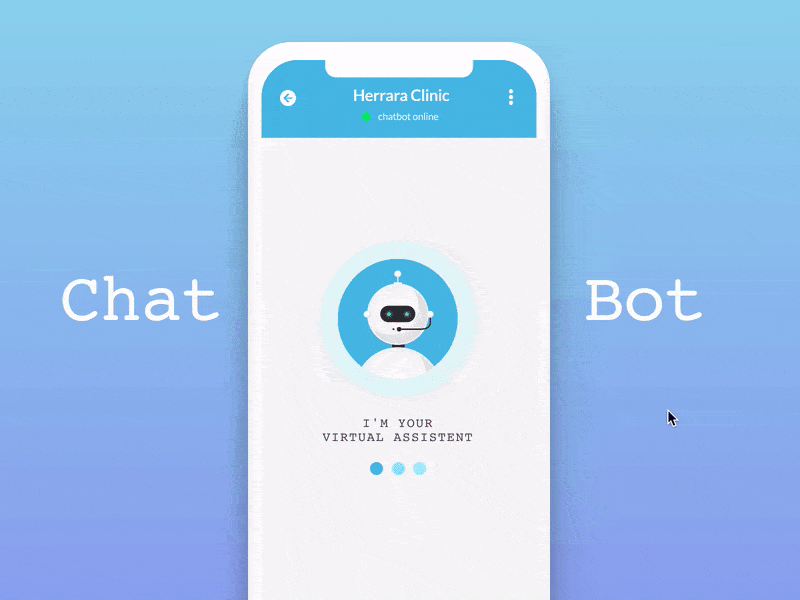 Making use of chatbots will be a regular part of your dental practice. Utilizing chatbots gives you increased search engine optimization because it improves patient engagement.
Each patient that uses a chatbot will have their own individualized experience. This adds to your on-site function, which is a quality way to improve your dental website SEO.
The best chatbots are programmed to improve the interaction with web users so that it feels as natural to use as possible.
This keeps your practice available around the clock, which is great for your dental practice marketing.
4. Start a Dentistry-Based Podcast
The more content you produce, the better. Podcast listenership increased by 20 million listeners in recent years.
When you take the time to create this kind of engaging audio content for the web, patients can reach you across several different devices, which grows your brand as a whole. It allows people to see your practice in a different light, which also grows long-term loyalty.
Since a lot of people have a fear or phobia of the dentist, connecting with them regularly in the form of a podcast can help bridge that gap while also building equity in your practice.
5. Always Use the Keywords That Make a Difference
Keyword research is essential in the Dental SEO landscape; they are the basic building block of any successful SEO strategy for dentists who wish to grow their practice.
You can use free or paid tools to research keywords that apply to your practice and specialized services, such as dental implants, braces, teeth cleaning, fluoride treatments, clear aligners, dental crowns, and more. Studying keywords will also give you the opportunity of staying updated with industry trends that are attractive to patients.
Think of keyword research as a way to target your efforts instead of casting a wide net into unknown waters. You're better off writing compelling, useful, and highly educational articles that target popular keywords in your local area instead of overreaching and failing to stand out from an ever-growing crowd.
Here are some of the factors you should keep in mind when researching keywords:
Keyword search volume;
Trend percentages;
Keyword competition and difficulty levels;
Long-tail keyword variations.
Eventually, you will learn to include them throughout your website naturally to bolster your dental SEO strategy and grow your dental practice. Try incorporating keywords multiple times in a single blog post, including the main body, titles, and intro. Over time, this will catch the attention of search engine crawling bots and increase organic traffic to your site.
And please, be subtle about it. We have seen too many marketing agencies and practices abuse the use of keywords or exploit loopholes that may bring quick results but ultimately lose all the progress made after a Google update.
6. Optimize Based on Mobile Devices
In 2020 and beyond, you're only getting the benefits of SEO if you also focus on mobile.
Dental practices that create websites that are easily viewable on mobile devices will gain more traction and traffic. Your patients won't have the attention span to work through buggy sites that crash.
Work with web designers that can create the best and most navigable templates you can find. Put together a test group that can help you improve on any deficiencies in your setup, and constantly jump on updates.
You will also want to work on building a mobile app for your practice. Your patients can use the app to book appointments, contact the dentist or specialist with questions, find information, and more.
7. Select Images That Stand Out
Don't forget to consider images when you are trying to create an SEO presence.
The internet is visually friendly, so your site will be rewarded when you create photo-intensive layouts. You can even bolster your site's traffic when you include alt tags and keywords.
This is absolutely crucial to your practice's SEO success since studies show that 20% of all web searches take place on Google Images.
Make sure that the images you choose are sharp and high-resolution, and that they are placed in areas that are eye-catching.
Use these same principles for your social media accounts — particularly those like Instagram and Twitter. So much of your SEO will boil down to your social media presence.
As long as you have the right image quality you'll always be able to stand out.
8. Create Plans With a Dental Marketing SEO Company
A marketing company will be an excellent part of any SEO services that you are looking for.
Even though SEO is accessible to everyone, you won't really get the maximum effect from the strategies without a marketing professional. There are several pros that understand the nuances of dental care, and they'll know just what will bring in patients.
Set up a consultation with a company that does excellent SEO work.
Most importantly, a search engine optimization pro will help you to set goals. These goals can be broken down by the month, quarter, year, and beyond.
By simply having some goals that you can chip away at, you will be able to meet a variety of metrics that will grow your practice's visibility.
9. Make Sure Your Site is Well-Designed and With Great Uptime
Good old web design is a staple for any search engine optimization strategy. Hire a professional that can help you out with any web design project.
This applies whether you want to build a site from scratch or if your current practice's site needs a redesign. Your site should be able to withstand the new wave of traffic that you're bringing in.
When your site is easy to use and most importantly, always up, your patients will trust you and find you reliable.
Test out your site for speed and page insights, and make it so that people can always connect.
10. Target Local Patients Whenever Possible
Finally, honing in on local patients will always be your bread and butter. By choosing local-specific keywords and strategies, your practice will carve out a place in the community.
This also leads to glowing reviews and word of mouth, which is some of the best marketing that you can ever hope for.
Put Together Some Great Dental SEO Plans
The tips above will help you out when you're interested in improving your dental practice's search engine optimization. It will carry you a long way and allow you to make your practice as visible as you need it to be.
Local SEO for dentists At the Search Business Group, we can help you out with any healthcare marketing plans that you'd like to put together.
Take the time to contact us online for all your dental SEO, web design, and branding needs, or call us at (714)519-6290.