Looking for Ways to Make Your Dental Practice More Effective?
Growing your business and taking care of your patients at the same time is undoubtedly a challenge.
This article will help you master the understanding of the competitive market you are facing, determine your needs and goals, and then apply the campaigns needed to expand your practice and take it to the next level.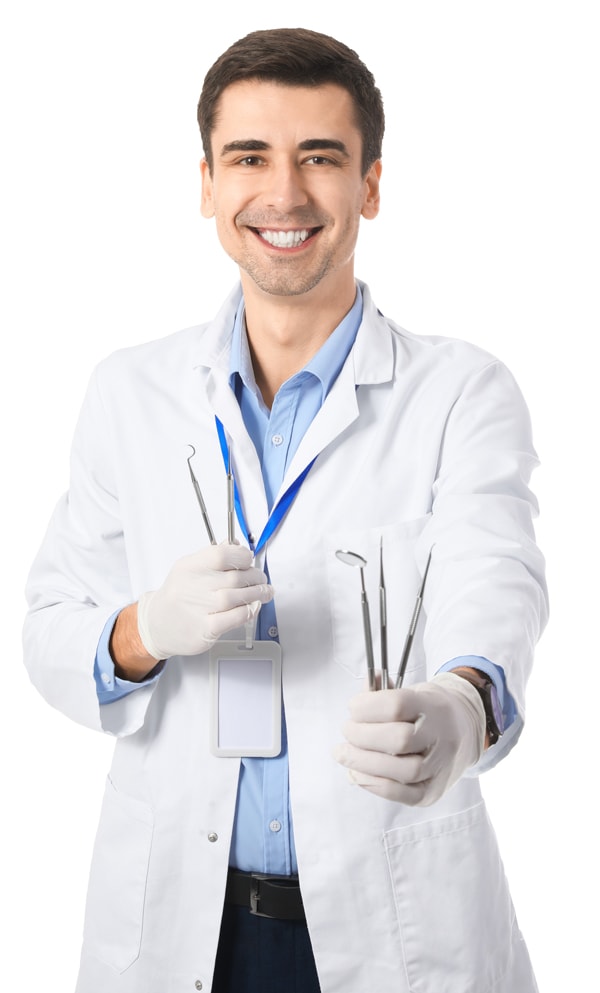 Understand the complexity of the Digital Marketing Industry
Digital marketing has evolved rapidly into an extremely competitive industry.
Most of today's successful practices and businesses understood -early on- the role that the internet and its online campaigns played in advertising. And with this awareness, they were able to grow exponentially.
The dental industry was no exception to this new era of digital advertisement. Still, before diving into the online dental marketing world, we first need to debunk the myth that traditional advertising is less expensive or more productive than digital advertising when, in reality, it is quite the opposite.
Let's navigate together through the essential ideas that helped build today's online marketing world. We will dig into all the advantages and profits we can generate for your business and brand across the leading Ad platforms for organic, social media, and paid search advertising.
Most online dental marketing plans can be a powerful and successful approach that will bring a significant ROI to your dental office when properly applied. An excellent online marketing tactic will increase your site's visibility, expand, and solidify your brand awareness, generate qualified leads, and bring you higher traffic and rankings in the SERPs.
Tracking your online campaign is crucial to have a clear understanding of all your online and offline efforts. Call tracking is the one tool that allows you to acquire and analyze this information to measure your marketing success accurately, create more traffic, and increase the user and sales count.
Without a doubt, one of the best online advertising tactics that you can use to organically improve your visibility in your local area without paying for ads. At the same time, as you jump the ladder to the top of the rankings, you will increase your website authority, users' trust, and brand awareness.
The world of dental marketing and social media is highly competitive. We all want our practices to grow and to attract potential patients. But where to start, what to choose, and how much do they cost? Let's take a look at some of the most important and more useful social media marketing campaigns we currently have for dental practices.
Dental Marketing Research & Fundamentals
This section will help you navigate the fundamentals of the general advertising world, how much it has changed to a new online marketing format, and how effective a well-researched campaign is for your business.
Traditional Advertising vs. Digital Advertising
Recent studies have shown that digital marketing is more cost-effective and a direct way to attract and connect with your target audience.
Given the growth in the digital world, it is only a matter of time before digital advertisement will completely replace a traditional dental marketing plan.
Currently, the main difference between both marketing approaches is that traditional advertising efforts focus on conventional media like printed newspapers and magazines, which -at present- are consumed by a small population.
On the other hand, we have the constantly-growing digital advertising which uses online media, such as social media platforms or websites, where the population is active and increases as we speak.
In the end, traditional advertising may only provide you with a conventional campaign that does not reach a significant audience. Furthermore, these limitations could limit any direct interactions with prospective patients.
In brief, digital advertising offers direct interaction with your target audience, bringing far higher levels of engagement, conversion rates, and ROIs, making it a less expensive and more effective marketing strategy.
Dental Marketing Research
First and foremost, any successful digital campaign starts with research. You need to know your website's reality and where you are standing to build from the ground up.
Based on your needs and goals, you can choose the campaign that is right for you.
A site's analysis and examining your current situation will stop you from buying a service that you might not need.
Not all practices are alike, and there is no such thing as a one-size plan/campaign that fits all. Be cautious of boilerplate plans. Many companies offer cheap plans that promise fast, quick results, but these plans don't necessarily cater to your needs.
Remember not to rush; avoid the quick-cheap campaigns that will lack the know-how, effectiveness and will -certainly- be a waste of your time and money.
A job well done requires research, time, and effort to be applied and well-executed -and- it will provide you with the long-lasting results you need.
Learn more about dental marketing:
Dental Marketing Strategies
In this section made for dental practices, we will give you the basics of the most current and successful strategies in the industry, such as Branding, Dental Oriented Websites, Content, Google Business Profile, Online Reviews, Email Marketing, and Artificial Intelligence/Chatbots
How your patients see your brand and how familiarized they are with it is crucial for your practice.
Your brand represents your practice, its services, and all your staff. It is your vision and your vow to your patients.
Dental branding is the ideal tool to focus on your image and the good reasons why a patient should choose you over the competition. It also helps you in acquiring new patients and maintaining your current ones.
The benefits your practice will receive from a solid online dental branding campaign are endless. Not only will it put you up at the front of the race over your competitors, but it will also increase awareness and -as a consequence- the value of your brand and business.
New better and qualified leads will come naturally when visibility and traffic improve.
It also boosts employees' morale and pride, trust within the community and raises referrals and sales.
Learn more about dental branding:
In the era of DIY and quick fixes, where we may find many tutorials to create a website. Is it a good move (businesswise) to create our own site?
A dental website has a definite purpose, and that is to attract new patients and to keep our current ones happy and well informed of all our services. This efficient type of website needs to be crafted, well coded and must have all the necessary elements to generate significant ROIs.
Mobile devices generate over 70% of web traffic worldwide. If we want a piece of that pie, we must consider that our site (layout & design) must be adjustable to all platforms.
Desktop, mobile, and tablet versions must download properly. Your online content must encourage users to take action (buttons, forms, phone calls tracking systems) and always include essential and useful content. Likewise, your content must look good with an appealing design.
In brief, if we want an effective conversion machine site, we better invest a little bit in it and leave it to the professionals that can share with you their expertise and know-how.
Learn more about healthcare web design:
Information was the sole motivator for the creation of the internet. Back in the 60s, it was used for military purposes; but today, this technology also helps feed our world with data, news, material, and more.
We can only reach and nurture our target audience with a successful content strategy that provides relevant, original, and meaningful content. Good information yields happy patients.
Such an approach will attract and retain patients, keeping your users engaged and informed with our practice and the services you offer. Comprehensive content strategies such as this one will stimulate long-lasting relationships with your old patients and create new ones.
Learn more about dental content marketing:
Google Business Profile for your Dental Practice
As more internet searches evolve into no-click searches (meaning the users don't engage with any content options from the search engine result pages), you have to make the most out of any opportunity you have to engage with a user.
Google Business Profile (GBP) does precisely that. Your dental marketing plan needs to consider the value of every tool at your disposal. Your GMB profile offers users who search for you by name a bird's eye view of your practice, including what you offer, your business hours, valuable updates, and more.
Make sure you make the most out of this tool and keep new and existing clients well informed about your dental practice. Offering reliable information quickly through search engines such as Google is one way to keep users engaged.
Our online reputation matters to us and most of our audience. Some estimates calculate that 5% to 10% of clients write reviews, and over 80% of individuals trust those reviews. With those reviews, your potential patients will decide if your practice is the one for them.
Google values reviews as well, and it gives review sites a special interest and podium position. So, it is wise to pay attention to our reviewers and make sure that we fulfill their needs as we grow from each interaction.
But not all patients give reviews; hence we need a good strategy to help us get them.
To create a winning strategy that will generate good positive reviews, we must consider that the number of reviews a practice receives is as important as the frequency with which users write them. It is a popularity contest, and we want you to be the best option.
A successful online review campaign that focuses on getting worthy reviews carefully considers the positive impact of local traffic, visibility, and branding.
Such a campaign constantly promotes positive reviews and welcomes more of them. Patients also need to be reminded to write reviews (as awkward as it might feel) but -be at ease- as there are always tools that we can apply which will help you and your staff smoothly ask for them, and that will help any patient writing them in a convenient, easy, friendly platform.
Another essential marketing tool to inform your patients and get new ones is email marketing. This tactic will help your practice increase your ROIs as well as boost business growth.
The first that you will need to apply your email marketing campaign is consent. Remember that if someone wants to receive email marketing, it must be authorized. Otherwise, we will open the door to an enormous amount of fines and breaches of regulations.
Once we have the consent, we can concentrate on the details of the message we want to deliver.
Please remember that your practice must be unique, different from the rest.
To present ourselves properly, we need to find the right moment and craft the right content from the subject line to the entire message and closing.
Choose appropriate images that will validate your main points, and always keep it brief.
Most of the effectiveness of an email marketing campaign is creating the spark that will ignite a call to action from the future patient, so make sure that your message will grab their attention quickly and make them crave more.
Learn more about dental email marketing:
Dental Artificial Intelligence (Chatbots)
Interaction with our users is always the best way to engage and show them how much we can help them.
By using adequate tools and software, our chatbots will understand the user's requests and identify their needs. Chatbots are great for first response needs and pinpointing the main course of action to take.
With chatbots, you can book appointments, resolve simple dental assistant tasks, schedule referrals, give information on services and treatments, send notifications/reminders to patients.
All of this is automated and cost-effective. And the greatest advantage of all is that Chatbots work 24/7 for your practice; even when the rest of the world is sleeping, your chatbot will continue providing essential information and working for you.
Finally, we can safely predict that the great future awaits with chatbots. It is a technology that has great potential, developing and improving each day.
Learn more about Dental Artificial Intellegence:
Measuring your Dental Marketing Results
There are many ways of measuring your advertising efforts. This article talks about your ROIs in the dental SEO section, but below, you will find an analysis on what is considered one of the best current tools used to track online marketing campaigns, Call Tracking.
The Power of Call Tracking (CT)
Call tracking is the process of determining how callers found your business.
Your SEO & Google Ads Campaigns can highly benefit from CT data. You can use this data to measure the success of all your digital marketing campaigns and optimize future strategies. CT is an essential marketing tool for any business that depends on phone calls for leads, clients & customers.
How does Call Tracking work?
Such technology helps track the sources of your phone calls and subsequent conversions. The basic idea of call tracking is to assign different phone numbers to various marketing channels and discern the source of a phone call lead.
The CT numbers automatically forward your regular calls to your assigned business phone number, allowing us to track the unique number from each channel, such as SEO/Organic, Google Ads, and others. With CT, we tie leads and conversions back to your specific campaign.
CT does not negatively impact your digital campaigns or website in ANY way. On the contrary, without call tracking, phone leads are difficult to attribute to a singular source. Also, without analytical data on phone calls, you cannot clearly picture your customer's experience with your brand.
What Does Call Tracking Allow Us to Do?
In brief, CT has become indispensable for businesses doing online advertising/campaigns. By linking the number of incoming calls to the efficiency of an advertising channel, you can make accurate calculations of ROI for your dental marketing solutions.
We also measure expenses for different advertisements and optimize the marketing budget to favor more efficient marketing channels (SEO/Google Ads).
Call tracking is useful in both measuring the effectiveness of offline (billboards, ads in newspapers) and online (Google Ads, SEO efforts, retargeting) marketing channels, which makes it an integral part of an omnichannel marketing strategy.
Learn more about dental call tracking:
Reach Your Community with Dental SEO and Amazing Organic Results
After receiving your website's Audit and Analysis, you will be ready to choose the option or combination of plans that work best for you. Let's take a look at the world of Dental SEO and why this online advertising tactic is one of the top-performing dental marketing strategies we have today.
Dentist SEO stands for Search Engine Optimization, which is the ongoing practice of expanding and boosting the quantity and quality of traffic to your website via organic search engine results.
The aim is to acquire new leads and conversions through the optimization and strengthening of your website. It involves several strategies, research, and techniques to improve your site's visibility and value within your community/local area.
Technical SEO and the Strategies Used
Why a Good Dental SEO Campaign Matters
E.A.T. & Quality
Google's algorithms give focal attention to Expertise, Authoritativeness, and Trustworthiness (E-A-T) content.
If we want our users to stay on our site, it is crucial to deliver substantial, valuable, and unique content. E.A.T. represents quality, and with accurate, original, and professional content, we build trust.
Keyword Research and Target Audience
As we stated initially, research is critical to your SEO success.
Content research involves a detailed analysis and optimization of your whole website, meaning that the words we put into your site from the snippets, URLs, codes up to pages, and blogs are ALL there for a reason. They were researched, analyzed, and carefully selected for your ideal patient and target audience.
This type of research opens the door to the insights and the nature of your audience's needs, interests, and minds.
And with this data, we reach the perfect ground to create and craft the campaign your practice needs, based on your users' interest (represented in search volume, queries, and even platforms) and needs.
Learn more about dental SEO:
Dental SEO & Public Relations (PR)
Traditionally, PR facilitates managing the information surrounding a brand and its public.
But in today's digital world, we use PR for an even more powerful purpose, specifically creating brand awareness, traffic, website authority, and new link-building opportunities. This strategy will help us increase website authority (domain rating), generate new high-quality links.
Dental SEO is one of the best ways to create growth with a higher ROI.
It increases your website's strength and health, and it also boosts brand awareness and traffic. It is an extremely successful strategy that pays long-term dividends.
SEO is competitive but fair, and at the same time, SEO will improve your customers' experiences, achieve higher results with more clicks and traffic to your site, and create new leads and conversions.
Learn more about Dental Public Relations
Dental Advertising Improves Your Online Presence
If you want your dental practice to increase its patient flow and business success by referrals and reviews, social media is the right strategy for you.
It takes the concept of word-of-mouth referral to the next level and allows you to speed up the process with digital content and targeted advertising.
Below are some of the best tactics that will fit your budget and help your business thrive.
Google Ads is an excellent instant online dental marketing plan. With it, your practice will have the rapid exposure and visibility you are looking for while retaining control over the advertising message delivered to your ideal patient.
Formerly known as PPC, Google Ads is an online custom campaign associated with first-tier search engines. We use Google Ads to attract traffic to your website by paying the publisher every time someone clicks on your Ad.
The Ads are catered to your target audience, and the advertiser has complete control over the material published.
Learn more about Google Ads:
A great way to connect to your target audience is through their favorite platforms; Instagram (IG) and Facebook (FB) help you do that.
You will be able to control the content of your campaign, and at the same time, if properly applied and followed, they will be cost-effectively
FB campaigns can be very profitable. They can drive high-quality clicks and attract traffic to your site, and increase the value of your practice.
Setting the right goals for your FB campaign is key to its success. If you are interested in brand awareness, community interaction FB is your channel.
As in IG, you will have higher control over your content, but do consider that social media campaigns will require you to engage with your audience actively.
Posts will have to be carefully crafted and scheduled. Our marketing teams will help plan a creative, fresh, and well-organized campaign, so your posts will reach your target audience, create awareness, and boost your sales.
Learn more about Dental Facebook Advertising:
Instagram for Your Dental Practice
You want to share your vision and inspire your prospective patients with beautiful smiles and a million possibilities, IG is the perfect channel.
Our team of specialists will help you set the right goals for your Instagram marketing campaign. Of course, we will tailor the campaign after researching and analyzing your IG target audience.
With a marketing plan in mind, we will dive into your IG posts' promotion, organization, and scheduling.
We will also help you create an eye-catching profile that will be constantly optimized and monitored to your needs. You will also be able to keep in touch with your actual patients by building a trustworthy image, brand, and portfolio.
Learn more about Dental Instagram:
Dental Marketing Ideas To Grow Your Practice!
These are just a few of the many online resources we offer. We have years of experience helping the Dental Industry, and our online advertising campaigns have helped hundreds of practices achieve their highest potential and most extraordinary dividends.
Let us help you attract new qualified and prospective patients in your community and local area.
Dental marketing is an area where we want you to feel comfortable and at ease with our campaigns. These plans and ideas will be a substantial asset for your practice and enable you to create better relationships with your audience. Such efforts maximize your brand's potential and help you grow exponentially.